May 2018
Beverly Hills: Virginia Robinson Garden
EVENTS
The Virginia Robinson Gardens is the earliest estate in Beverly Hills, California. It was the private residence of Virginia Dryden Robinson. The 30th Annual Garden Tour and Showcase Estate collaborated with Sunset magazine on May 19, 2018 for the Garden Tour.
The outside gardens were all magical and reflect very different eras of Virginia's long tenure in Beverly Hills, from the Moorish Mansion of the 20's to the Little Holmby Florentine Villa, replete with "antiquities," to the Mid-Century Modern around the corner from Virginia's fabled grounds. The Concierge Garden, an Italianate beauty once owned by Cher and also Larry Flynt, jumped into the British Royal Wedding celebration with a lavishly set Afternoon Tea.
Friends member Jamie Wolf arranged the absolutely stunning floral centerpiece on this table; she also created all the floral arrangements at the private gardens. Touring never-opened private gardens is one special highlight of the Garden Tour, but the showcase aspect of the Robinson Estate, re-imagined every year by the most creative floral artists and designers, is a draw equally potent. There was so much excitement back at Robinson Gardens. The meadows leading up to the house were ablaze with a riot of yellow daisies—truly a glorious sight.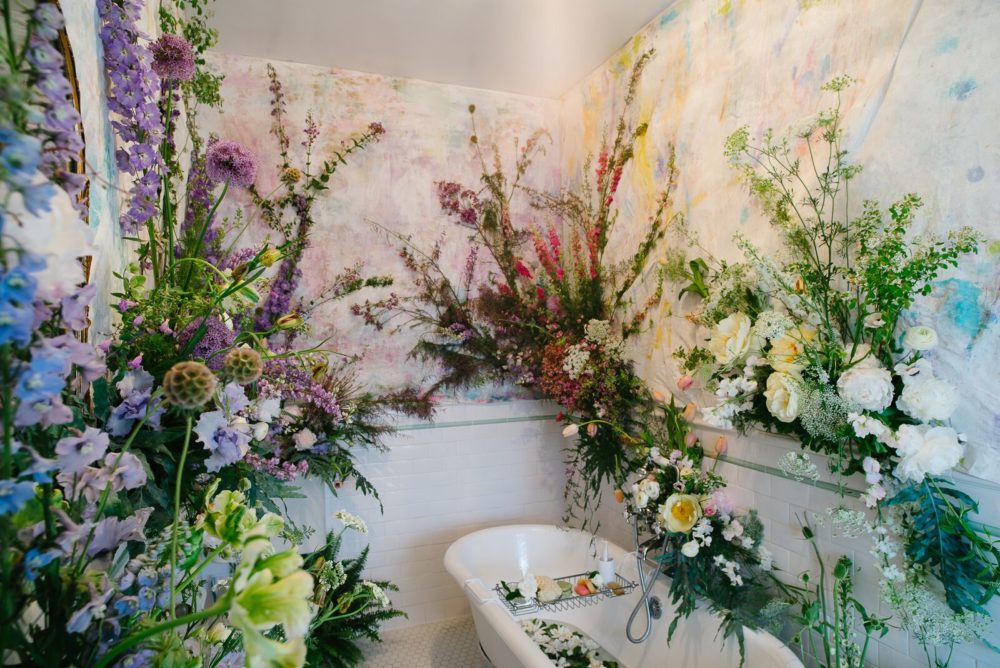 The Robinson Gardens are managed by the County of Los Angeles and open to the public for docent tours by advanced reservation only. Tours last approximately 90 minutes and are offered by reservation only. Walking tours take visitors through our six unique botanical gardens, including the majestic King Palm Forest, (the largest collection of King Palms in the Western Hemisphere!).
You may call 310.550.2087 or email the Gardens at visit@robinsongardens.org to make your reservation to see the enchanting gardens.